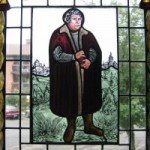 Christ Lutheran Church has a long history in the Niagara region. Christ Lutheran Church was organised in 1912 through the efforts of Pastor Otto Lossner who was pastor of Emmanuel Lutheran Church, then located in Jordan, Ontario. In that year some of the members of Emmanuel and other Lutherans living in St. Catharines rented a hall on the third floor of The Standard building on Queen Street. The first worship service saw thirty people in attendance.
In 1914 the congregation bought a building on Gerrard Street, near Welland Avenue in St. Catharines under the leadership of Pastor Lossner shortly before he accepted a call to serve a congregation in Michigan. Our Gerrard Street church building was originally used as a stable for a big brick house on the corner of Welland Avenue. During the years of the First World War the fact that the church worshipped in German put a sever damper on the growth of the congregation. After the war, German services were cut to once a month. Less than ten years later in 1925, Christ Lutheran Church became a member congregation of the Lutheran Church-Missouri Synod (LC-MS).
Eventually the congregation outgrew the Gerrard Street building and in 1938 purchased land on the corner of Geneva and Junkin Streets. By this time the congregation was worshipping only in English. In May of 1941 the new church building was dedicated by Pastor W. O. Rathke. The Junkin Street church was built by Mr. A. Younglut, a member of the congregation and a skilled builder. During the time of the Second World War many German Lutherans moved from the West to St. Catharines to work in war production. The congregation grew to 500 members and began to worship in two services each Sunday to accommodate all the members. In 1948 Pastor Rathke was elected as President of the Ontario District of the Lutheran Church-Missouri Synod and left us for that role. After a short two year pastorate under Rev. Donald Ortner from 1952-1954, Rev. Theodore Schulze was installed as pastor of Christ Lutheran in 1954. Up until 1954 all the pastors of Christ Lutheran Church served our mother church in Jordan as well us in St. Catharines.
Under Pastor Schulze's leadership and continued immigration Christ Lutheran Church continued growing and formed four daughter Lutheran churches in St. Catharines starting with members from Christ. The four churches were Grace (a German-speaking congregation) in St. Catharines, Trinity in Virgil, Faith in St. Catharines and Resurrection in St. Catharines. To this day all four daughter congregations remain in St. Catharines, however the members of Faith have joined another Lutheran synod.
In July 1958, Christ Lutheran Church's current building was completed and the church was dedicated.
In 1988, most of the LC-MS churches in Canada decided to form an autonomous Canadian sister-synod of the LC-MS, called Lutheran Church-Canada (LC-C).  Christ Lutheran Church then became part of LC-C which remains in full fellowship with the LC-MS.
In the past fifty years Christ Lutheran has been blessed by the service of the following pastors: Pastor Schulze (1954-1969), Pastor Roy Knoll (1969-1972), Pastor James Bloch (1972-1986), Pastor Steven Oetting (1986-2007), Pastor Robin Korsch (Associate Pastor 2005-2009) and our current pastors, Rev. Gary Kuenzel (2009–) and Rev. David Duke (2010-).