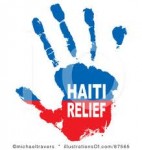 HLMS is a registered charitable organization which has been sending relief aid to Haiti for over 30 years.   HLMS wires funds directly to the Lutheran Church of Haiti, so that supplies are purchased there and trucked quickly to the needy.  HLMS is  a listed service organization of LCC.  They also collect household items and clothes for direct shipment to Lutheran Congregations in Haiti.
Many Lutheran congregations were severely affected by the earthquake in 2010. Pastor Revenel Benoit of the Lutheran Church of Haiti (LCH) reported that 45 of the 192 Lutheran Churches in LCH were destroyed by the earthquake, however, all the Lutheran pastors in the affected area were safe. HLMS will surely be in the earthquake aid business for the long haul, for reconstruction will likely take  years. Pastor Benoit's stone quarry in Gonaives should be of great help. We pray that a timely and long-term response to this disaster will be used by our Lord to prepare many Haitians to turn from voodoo to Christ.
Feeding Program: In memory of their daughter Erin, Jack and Erna McBride  started a child feeding program for an entire Lutheran School in Haiti.  Three years later, Jack has also passed away, and we are still collecting donations in his and Erin's memory.  The enrollment at the school has spiraled and many children are now being fed with nutritious food and God's word each day.  This has obviously increased the cost.  Erna and Pastor Kuenzel visited Haiti to witness the blessings that this program has bestowed at Erin's beloved school and it's children.  If you are moved by God's Spirit to help with this larger commitment and are interested in helping in this way, for as little at $5.00 /month or $60.00/year you can feed one child a hot meal each day at school.   Please direct your donations to HLMS.
Donations may be sent to:
Haiti Lutheran Mission Society
400 Glenridge Ave.
St. Catharines, ON  L2T 3N2
or at: http://www.canadahelps.org/CharityProfilePage.aspx?CharityID=s19978
HLMS website:http://www.haitilutheranmissionsociety.ca/
Howard Bogusat reported that the Haiti Lutheran Mission Society volunteers collected and packed the following donated materials which will set sail for Haiti on November 2, 2017 and arrive about November 14, 2017 and be released in time for Christmas:
HUMANITARIAN PACKING LIST FOR HAITI
26  USED SEWING MACHINES
463  BOXES OR BAGS OF  USED CLOTHES
165  BAGS OF USED SHOES
95  BOXES OF KITCHEN SUPPLIES
119 BAGS OR BOXES OF BEDDING / TOWELS ETC.
99  SLEEPING MATS ( PLASTIC )
17  GARDEN TOOLS, SHOVELS, AXES ,HOES, RAKES  ETC.
93 BOXES OF SEWING SUPPLIES
8 BOXES OF MEDICAL SUPPLIES ( NO MEDICATIONS )
38  BOXES OF SCHOOL SUPPLIES
29  BOXES OF TOILETRIES
22  HAND TOOLS, NAILS, WHEELBARROWS ETC.
27  BAGS OF TOYS
2 WHEELCHAIRS
41 BAGS/ PURSES
5 SHELVES, CABINETS
91 USED CHAIRS
4 BOXES OF CLOCK RADIOS
88 BOXES of  USED BOOKS
190 cubic feet of  USED LUMBER
13  MISCELLANEOUS:  SAW, TIRE, EMPTY TOTE BOXES, TARPS
Total = 1635  pieces
Total shipping cost is just over $12,000.00 this time. Increase is due to our lower dollar ( over half of fees are in US dollars ) and the fact that we paid a bit more for the container due to availability issues, but it was a good one, so that's fair…Blessings…..Howard
THANK YOU TO ALL THOSE THAT DONATED.  IF YOU WOULD BE INTERESTED IN VOLUNTEERING, PLEASE SPEAK TO HOWARD.
Haiti Lutheran Mission Society