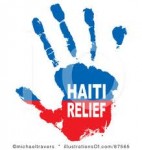 HLMS is a registered charitable organization which has been sending relief aid to Haiti for over 30 years.   HLMS wires funds directly to the Lutheran Church of Haiti, so that supplies are purchased there and trucked quickly to the needy.  HLMS is  a listed service organization of LCC.  They also collect household items and clothes for direct shipment to Lutheran Congregations in Haiti.
Many Lutheran congregations were severely affected by the earthquake in 2010. Pastor Revenel Benoit of the Lutheran Church of Haiti (LCH) reported that 45 of the 192 Lutheran Churches in LCH were destroyed by the earthquake, however, all the Lutheran pastors in the affected area were safe. HLMS will surely be in the earthquake aid business for the long haul, for reconstruction will likely take  years. Pastor Benoit's stone quarry in Gonaives should be of great help. We pray that a timely and long-term response to this disaster will be used by our Lord to prepare many Haitians to turn from voodoo to Christ.
Feeding Program: In memory of their daughter Erin, Jack and Erna McBride  started a child feeding program for an entire Lutheran School in Haiti.  Three years later, Jack has also passed away, and we are still collecting donations in his and Erin's memory.  The enrollment at the school has spiraled and many children are now being fed with nutritious food and God's word each day.  This has obviously increased the cost.  Erna and Pastor Kuenzel visited Haiti to witness the blessings that this program has bestowed at Erin's beloved school and it's children.  If you are moved by God's Spirit to help with this larger commitment and are interested in helping in this way, for as little at $5.00 /month or $60.00/year you can feed one child a hot meal each day at school.   Please direct your donations to HLMS.
Donations may be sent to:
Haiti Lutheran Mission Society
400 Glenridge Ave.
St. Catharines, ON  L2T 3N2
or at: http://www.canadahelps.org/CharityProfilePage.aspx?CharityID=s19978
HLMS website:http://www.haitilutheranmissionsociety.ca/