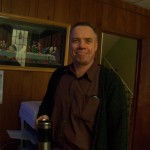 Pastor Gary Kuenzel grew up in Montana as the oldest of 6 children and graduated from Montana State University with a teaching degree in 1980. He taught in Montana  and Nevada public schools before he answered God's call to serve as a missionary-teacher in Japan in 1983 with a Lutheran Church-Missouri Synod program. There he met and married Wendy (nee Darroch) from Niagara Falls, Ontario who was  teaching in the same mission program. Wendy is a graduate of the Brock Education Department with a degree in Elementary Education.
The couple's first son, Joel was born while they were teaching in Koriyama, Japan. The three Kuenzels came to the Niagara region in 1986 when Pastor Gary answered God's call to the ministry by enrolling in Concordia Lutheran Theological Seminary here in St. Catharines. Second son, Nathaniel,  was born during this time frame. Gary graduated in 1990 with a Masters of Divinity Degree from Brock University.
After a decade of parish ministry in Estevan, Saskatchewan (where third son Christopher and daughter Elizabeth were born) and Burlington, Ontario, the Kuenzels again felt the tug of the mission field, answering a posting for teaching positions at the Highland Lutheran International School in Enga Province in Papua New Guinea in 2002, taking their three younger children with them.
When the school was burned in tribal fighting a year later, the Kuenzels were compelled to return to the Niagara area, where Pastor Gary was retained on the staff at Christ Lutheran to help then Senior Pastor Steve Oetting. Together, they started Christ Lutheran's involvement in missions in Nicaragua. That involvement continues to this day.
On coming back to Canada, Wendy returned to teaching with the Hamilton-Wentworth Public School District where she continues to teach in the elementary division. After being called and serving as Pastor at Christ Our Saviour Lutheran in Grimsby, Ontario for 5 years, Pastor Gary was honoured to accept the call to return to Christ Lutheran in 2009.